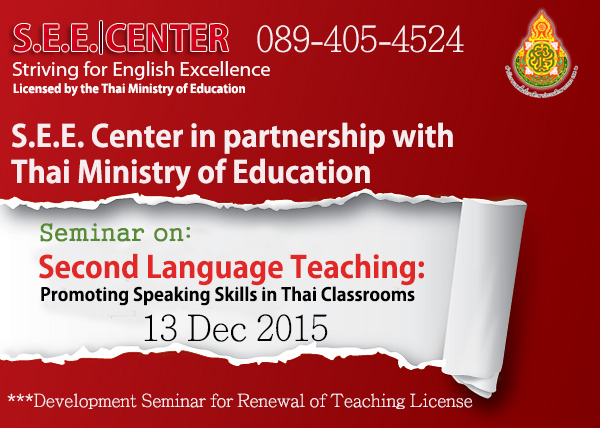 In accordance with the requirement of the Teacher's Council of Thailand, S.E.E. Center, in partnership with  the Thai Ministry of Education, is holding a professional development seminar for all foreign teachers wishing to renew their teaching license in the country. S.E.E. Center is accredited and licensed by the Thai Ministry of Education.
Date: 13, December, 2015
Venue: Rommai Resort, Klaeng, Rayong, Thailand
Timetable
9:00- Opening remarks from the Ministry of Education
9:20-10:30: Teacher talk and learner talk:
The science behind reluctance to speak
Reluctant speakers: providing encouragement
10:30- 10:45: Coffee break
10:45- 12:30: The role of L1 in the monolingual classroom
cultural dimensions of spoken discourse
Linguistic human rights
12:30- 1:30: lunch break
1:30- 3:00: Managing spoken interaction in the classroom
setting up speaking tasks
creating conditions for spoken interaction
providing speaking models and designing speaking activities
evaluating and grading speaking tasks and activities
Price: 600 THB
Remarks:
The certificate, signed by the speakers and the director of the Thai Ministry of Education (Area 2, Rayong), will be sent via EMS or personally picked up at S.E.E. Center 7- 15 days after the seminar.
Application Online
Click to apply Online >> http://www.seestudies.com/seminar-application-2015/